---
Welcome to Pellissippi State Community College! We're excited that you've chosen to attend our school. Your decision to enroll here may be one of the most important you'll ever make, and we are dedicated to working with you to achieve both your educational and your life goals. Whether you're preparing to enter the workforce for the first time, planning to transfer to a four-year institution or simply taking a course for personal growth, we are committed to helping you succeed academically and to providing opportunities for you to broaden your horizons. Our caring faculty and staff look forward to connecting with you soon.
A Brief History
Pellissippi State is a vital institution accustomed to transformation and growth. Since its founding in 1974 as State Technical Institute at Knoxville, the College has expanded the teaching of technology, the use of technology in instruction, and the transfer of technology to local business and industry in support of regional economic development.
Having enrolled only 45 students in its first year of operation, the institution experienced steady growth in the '70s, adding business technology programs to its original core of engineering technology programs. As community awareness grew, so did expectations. In 1988, the Tennessee Board of Regents approved the expansion of the technical institute's mission to include college transfer programs.
This mission expansion was accompanied by a name change to Pellissippi State Technical Community College, and enrollment grew quickly. In 2009, the Legislature voted to shorten the name. The institution is now known as Pellissippi State Community College.
The College continues to support and develop career-path associate's degrees, associate's degrees for transfer, certificates, and continuing education opportunities for the citizens of Knox, Blount, and surrounding counties. Pellissippi State offers credit courses to high school students as well. In partnership with the community, the College sustains the effort toward an ever-improving quality of life for residents of East Tennessee.
In fall 2013, 10,704 credit students were enrolled at Pellissippi State, as well as thousands of non-credit students.
Mission
The mission of Pellissippi State Community College is to serve its community by providing college-level and non-credit courses and learning support instruction using a variety of delivery methods, including distance learning. The College provides support for teaching and learning, training and workforce development, and opportunities for life, civic, and cultural enrichment.
Features of the Mission
To fulfill its mission, Pellissippi State provides students and other citizens of its community specific offerings in the following areas:
Associate's degrees and certificate programs that lead to employment in computer, engineering, and media technologies; business; and health science.
Associate's degree programs and courses that prepare students for transfer to baccalaureate-level colleges and universities.
Learning support instruction and academic and student support services.
Training to meet specific needs of businesses, industries and individuals.
Continuing education programs, seminars and workshops.
Resources for special grade K-12 programs and events.
Support for, involvement in, and promotion of civic and cultural projects and events.
To sustain and enhance these offerings, Pellissippi State develops and maintains comprehensive fiscal and other administrative services and a physical environment conducive to learning. In line with its heritage as a technical institute, the College integrates state-of-the-art technology into teaching and learning, educational support, and administration.
Located in Tennessee's third-largest metropolitan area, Pellissippi State comprehensively serves the greater Knox and Blount County area and extends its engineering and media technology offerings to Anderson, Loudon, Roane, Cumberland, Campbell, Fentress, Scott, and Morgan counties. A member of the Tennessee Board of Regents System, the College develops and maintains student transfer agreements with TBR universities, the University of Tennessee, and private colleges and universities in the region. In all programs and services, Pellissippi State continually emphasizes the value of diversity among students, personnel and other constituencies. Services are provided without regard to age, gender, sexual orientation, veteran status, religion, race, national origin or disability.
Pellissippi State Community College is accredited by the Southern Association of Colleges and Schools Commission on Colleges to award the associate's degree. Contact the Commission on Colleges at 1866 Southern Lane, Decatur, Georgia 30033-4097 or call (404) 679-4500 for questions about the accreditation of Pellissippi State Community College.
Campuses and Maps
Pellissippi State offers programs, courses and services at five primary locations. Below is a directional map to the Hardin Valley Campus, Division Street Campus, Magnolia Avenue Campus, Blount County Campus and Strawberry Plains Campus. For additional maps, including parking maps, visit www.pstcc.edu/maps/. The College also offers courses at other locations in Knox and Blount counties to meet the educational needs of its service area.
Hardin Valley Campus
10915 Hardin Valley Road
Knoxville (main entrance on Solway Road

Division Street Campus
3435 Division St.
Knoxville

Blount County Campus
2731 W. Lamar Alexander Pkwy.
(U.S. Hwy. 321)
Friendsville

Magnolia Avenue Campus
1610 E. Magnolia Ave.
Knoxville


Strawberry Plains Campus
7201 Strawberry
Plains Pike
Knoxville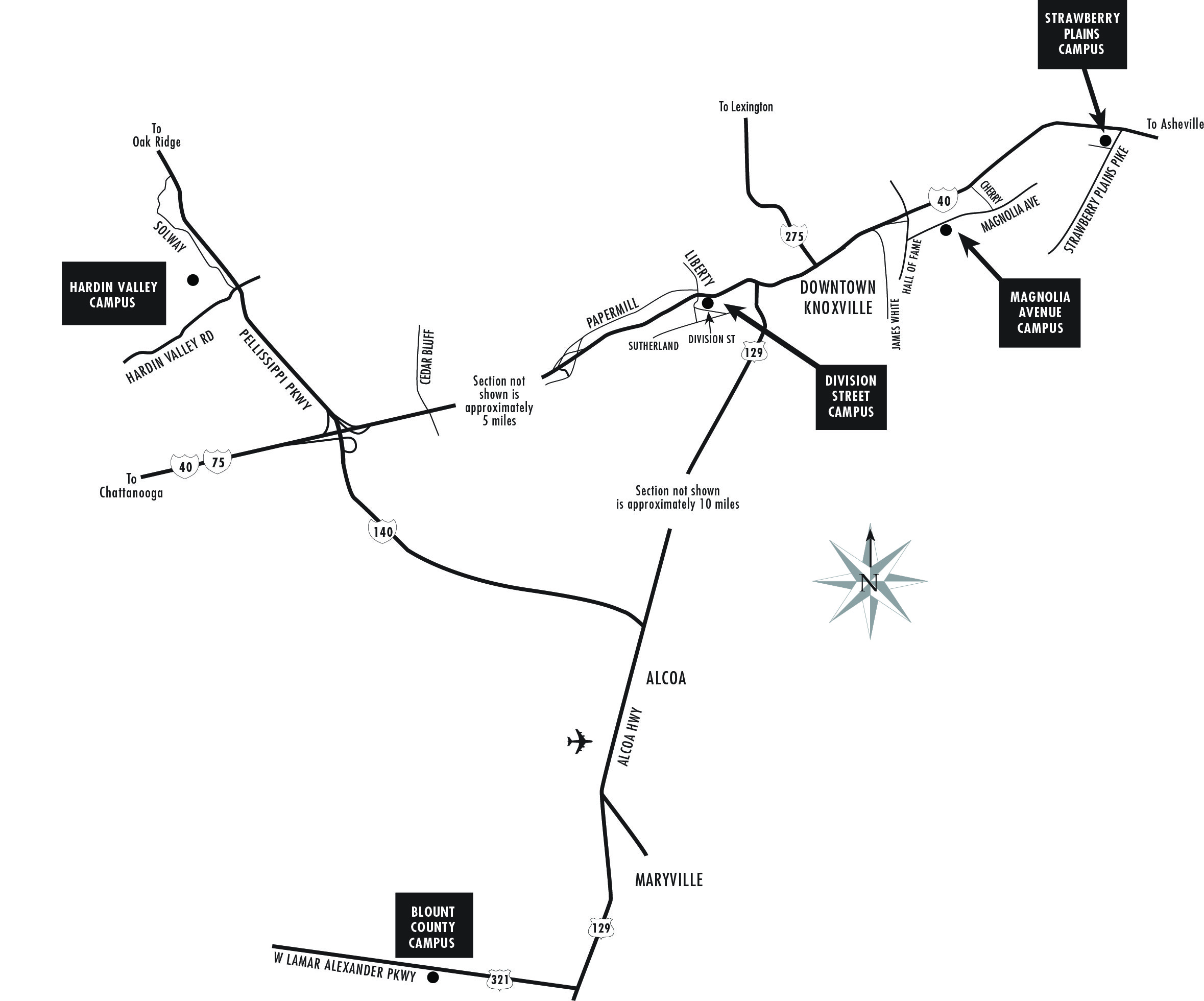 Important Contacts
The area code for all locations is 865.
| | |
| --- | --- |
| General Information/Hardin Valley Campus | 694-6400 |
| Blount County Campus (BL) | 981-5300 |
| Division Street Campus (DV) | 971-5200 |
| Magnolia Avenue Campus (MA) | 329-3100 |
| Strawberry Plains Campus (ST) | 225-2300 |
 

Abbreviation key for Hardin Valley Campus buildings:

 
GN—Goins Building
AL—Alexander Building
BA—Bagwell Center
MC—McWherter Building
ER—Educational Resources Building
SR—Student Recreation Center
Resource
Phone
Location
Academic Advising, Articulation & Curriculum
694-6556
GN123
Academic Affairs, Vice President of
694-6523
GN212
Academic Support Center 
 
 

Hardin Valley Campus
Blount County Campus
Division Street Campus
Magnolia Avenue Campus
Strawberry Plains Campus

539-7079
981-5300
971-5215
329-3111
225-2300

ER330
BL125
DV208
MA150
ST2520

Admissions (Enrollment Services)
694-6400
GN102
Affirmative Action
694-6607
GN262
Alumni Relations
694-6528
GN204A
Bookstore
694-6642
GN148
Business & Community Services
539-7167
AL108
Business & Computer Technology
694-6656
MA252
Business Office
694-6608
GN221
Cafeteria
694-6615
GN151
Cashier
694-6605
GN158
Computer Helpdesk
694-6537
ER319
Continuing Education (Business & Community Services)
539-7167
AL108
Cooperative Education
694-6559
GN111
Council of Student Advocates (COSA)
694-6408
GN144
Counseling Services
694-6547
GN128
Disability Services 
539-7153
GN134
Enrollment Services
694-6400
GN102
Engineering & Media Technologies
694-6483
MA246
English 
694-6708
MA329
Facility Rentals (Business & Community Services)
694-6665
AL108
Financial Aid/Veterans Affairs
694-6565
GN101
Foundation, Pellissippi State
694-6525
GN210
Grant Development
539-7350
GN203F
Human Resources & Affirmative Action 
694-6607
GN262
Internships, Business & Computer Technology
694-6597
MA251
Instructional Services
694-6449
AL217
Library
694-6516
ER Flr. 1-2
Liberal Arts
694-6475
MA240
Lost & Found
694-6646
GN101
Marketing & Communications
694-6405
GN264
Mathematics
694-6450
AL201B
Natural & Behavioral Sciences
694-6685
AL202
Non-credit Courses (Business & Community Services)
539-7167
AL108
Nursing
 
 

Blount County Campus Office
Magnolia Avenue Campus Office
Pre-Nursing Advising Center

981-5353
329-3165
694-6460
BL213
MA002C
AL106

Open Lab  

 
 

Hardin Valley Campus
Blount County Campus
Division Street Campus
Magnolia Avenue Campus
Strawberry Plains Campus

539-7116
981-5360
971-5233
329-3124
225-2309

ER327
BL189
DV138
MA147
ST2654
Pellissippi Press
694-6698
AL216
Placement
694-6559
GN111
President, Office of the
694-6616
GN211
Records (Enrollment Services)
694-6400
GN102
Rental Facilities (Business & Community Services)
694-6665
AL108
Safety & Security 
 
 

Non-emergency
Emergency

694-6646
694-6649
GN101
Student Assistance Center
694-6556
GN123
Student Life & Recreation
694-6555
GN141
Student Recreation Center
694-6576
SR102
Student Affairs, Vice President of
539-7188
GN109
Tennessee Consortium for International Studies
539-7279
AL103
Testing
 
 

High School Equivalency (Hardin Valley Campus)
High School Equivalency (Magnolia Avenue Campus)
Exit, Makeup
Placement

694-6752
329-3176
694-6454
694-6580
ER120E
MA143F
ER122
GN121
Transitional Studies (Learning Support)
694-6596
AL217
Tutoring
 
 

Hardin Valley Campus
Blount County Campus
Division Street Campus
Magnolia Avenue Campus
Strawberry Plains Campus

539-7079
981-5300
971-5215
329-3111
225-2300
ER330
BL125
DV208
MA150
ST2650
University Connection
694-6449
AL217
Whom to Contact if You …
| | |
| --- | --- |
| Need assistance in obtaining a job | Placement |
| Want to drop or add a course | Enrollment Services/www.pstcc.edu |
| Want to withdraw from Pellissippi State | Student Assistance Center/Counseling |
| Want permission for a special event or activity | Student Life and Recreation |
| Have financial obligations to Pellissippi State | Cashier |
| Want to put a notice on a bulletin board | Student Life and Recreation |
| Need a refund from a vending machine | Cashier |
| Need to notify someone in case of emergency | Safety and Security/Student Affairs |
| Want to participate in student activities | Student Life and Recreation |
| Want to change majors | Enrollment Services (Admissions) |
| Want help in selecting a career field | Student Assistance Center/Counseling |
| Need financial assistance | Financial Aid |
| Need counseling services | Counseling |
| Want to schedule a makeup test | Instructor |
| Need to type a letter or report | Open Computer Labs |
| Need help preparing for the high school equivalency diploma test | Testing Center |
| Need a tutor | Academic Support Center |
| Need classroom accommodations for a disability | Disability Services |
| Need event accommodations for a disability | ADA Officer (Executive Director, Human Resources) |
| Feel you have been discriminated against | Affirmative Action Officer (Executive Director, Human Resources) |
| Want to rent the College's facilities | Business and Community Services (www.pstcc.edu/bcs/facilities) |
| Want to discuss training (including CEUs) for your employees | Business and Community Services |